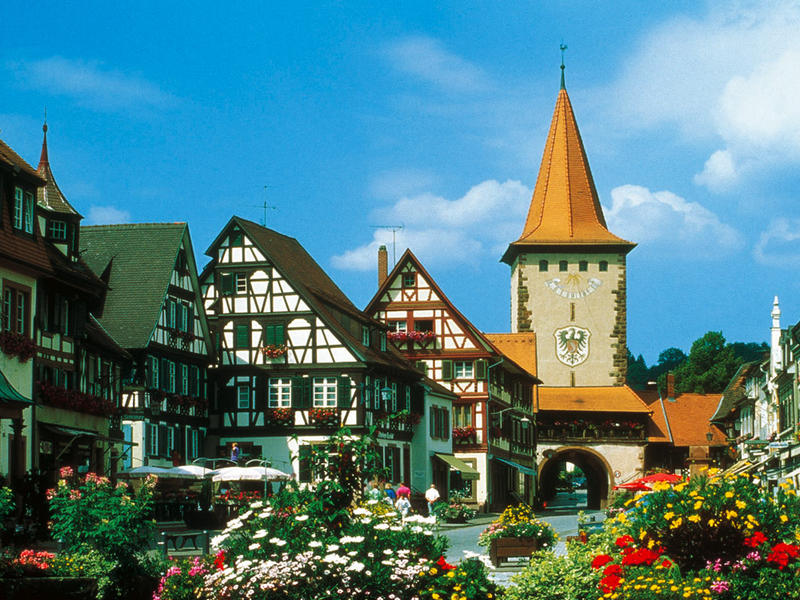 Gengenbach –
.... enjoy its unique flair


.... be active, take a deep breath, and relax


A lively small town
.... and centuries of charm

Gengenbach – it was once described on television as "a pearl among the cities of the half-timbered houses." Enthusiastic visitors rave about Gengenbach as a romantic gem or as the Nizza of Baden. Even from afar the city's towers and gates arise on the horizon, inviting the visitor to the historic old town. Narrow alleys entice you to explore the charming corners of the former free town. History breathes from every street, where the past meets the present: the preservation of traditions and customs is a responsibility its inhabitants readily and lovingly embrace. Many celebrations come and go during the course of the year, and the spectrum offered by this town of festivals and culture is diverse. But you can also enjoy our way of life and its sensual pleasures à la carte: exquisite wines, hearty meals, traditional dishes, or gourmet specialties. Our cuisine offers something for all tastes.

In the heart of the city, life ranges from whirlwind activity to peaceful tranquility. And in the valleys around town you can find the solitude you need to recover from stress of everyday life. Broad valleys, gentle hills, high mountains, lakes, and rivers – our countryside offers the ideal setting for the active holidaymaker and fitness fan. Enjoy hiking, Nordic walking, in-line skating, cycling, mountainbiking, swimming, diving, fishing, hang-gliding, archery, tennis, mini-golf, boccia, and so much more...

Come to experience and enjoy Gengenbach. We would like to welcome you to our small Black Forest town, and we look forward to your visit!